OLD ANDADO

Old Andado, situated on the edge of the Simpson Desert, is a step back in time.
When we first visited
(in June 1990)
it was run by Molly Clark.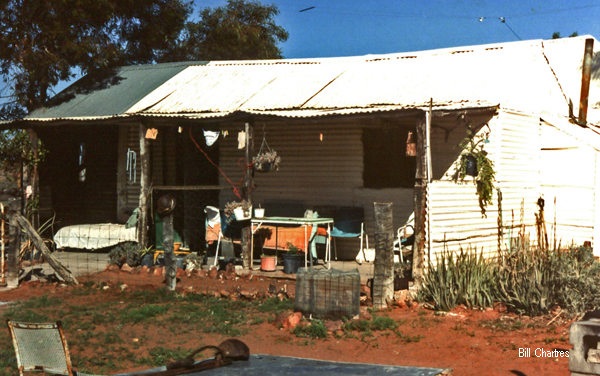 Old Andado Homestead - June 1990
(Photo © Bill Chartres 1990)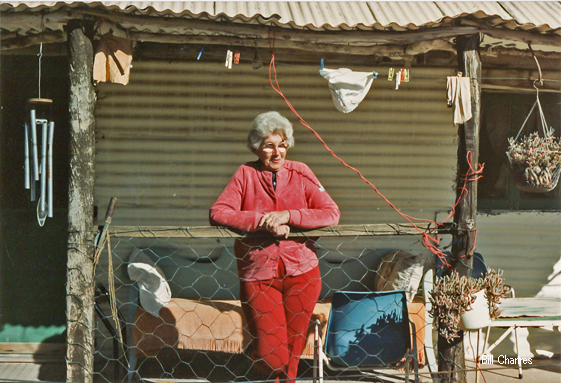 Molly Clark - Old Andado - June 1990
(Photo © Bill Chartres 2018)
Molly was a remarkable woman, she lived, alone, at Old Andado most of the time only returning to Alice Springs
during the very hot summers.
Sadly,
Molly Clark passed away in 2012 leaving the property to her grand children,
and in 2013 the Old Andado Charitable trust was formed to restore and maintain the property.
Visit their:- Web Site or Facebook for current information about Old Andado.
Molly married Malcolm (Mac) Clark in 1946, they had three sons Graham, Kevin and Philip, and moved to Andado, about 350 km South East of Alice Springs in 1955 where they lived in the original 1920's homestead. However the homestead was on very low ground, near the Andado Swamp, and was often subject to flooding, so they relocated to a new homestead, 18kms to the West (this is the Andado Station homestead today).

Molly had a difficult, often tragic, life. In 1975, their middle son Kevin, had a serious car accident from which he was lucky to survive. In 1978, her husband, Mac, was killed, following a heart attack, while flying his light airplane, and nine months later, in 1979, her eldest son Graham was killed when his semi-trailer collided with a freight train. In the early 1980's Molly lost her livelihood when the Northern Territory Government forced her to destock all her cattle because of Brucellosis and Tuberculosis.
Molly had to sell the property in 1984, and moved to Alice Springs to live.

In 1987, Molly obtained a Crown Lease over the old homestead and about 45 square kilometres surrounding it. The old homestead became her home once again, and she continued to live there until just before her death in 2012. During this time she developed the holding as a tourist attraction known as Old Andado.
Old Andado Homestead is probably the only Homestead in Australia were you can see how the pioneers lived, without any modern amenities, in the harsh conditions of Australia's outback.


The name Andado comes from a southern Aranda (Arrernte) Aboriginal word for a stone implement.

Enjoy the Christmas Spirit throughout the year.
Come and visit our display for a wonderful Christmas experience,
or email us with your thoughts about our Web Site.
We would love to hear from you.

e-mail us
Best Wishes, Bill & Peg