DALHOUSIE SPRINGS

Dalhousie Springs are a group of mound springs on the edge of the Simpson Desert.
At the largest of these there is a Camping Ground for those intending to cross the desert to Birdsville.
This is the last chance for a "clean-up" and swim before the crossing.

Dalhousie Homestead, was located 180k north east of Oodnadatta, it was established by Edward (Ned) Meade Bagot.
He was an Irish surveyor from Ireland who had a contract to construct the first 500 miles (800 km) of the Overland
Telegraph Line between Port Augusta and The Peak.
Bagot acquired the pastoral lease in 1872, and the homestead, outbuildings and stockyards were constructed in the 1880'
s
.

Ned's sons Edward Meade (Ted) Bagot and Charles Mulcra Bagot, managed the property until 1885.

Dalhousie was abandoned in 1925 and was acquired by the Lowe family (from the adjoining Mount Dare Station) in 1948.

In 1984 the SA Government purchased these properties from the Lowe family for $750,000, and created the Witjira National Park.

"Dalhousie" was always one of our favourite stopovers on our trips through the area. The water temperature is about 38°
c
and on cool mornings steam raises from the water.
We first visited in 1987 soon after it was acquired by the government, and at that time there were no facilities.

Dalhousie Springs - 1988
&copy Bill Chartres 1988
Dalhousie Springs - 1988
&copy Bill Chartres 1988
Peg Chartres
Dalhousie Springs - 1988
&copy Bill Chartres 1988

Dalhousie Springs
Steamy water- July 1988
&copy Bill Chartres 1988
Dalhousie Springs - 1988
&copy Bill Chartres 1988
Dalhousie Springs
Steam raising from hot water - July 1988
&copy Bill Chartres 1988

Our Dalhousie Springs Camp Site 1988
&copy Bill Chartres 1988
The Dalhousie Springs Camp Grounds - 1988
&copy Bill Chartres 1988
Dalhousie Springs Camp Grounds - 1988
&copy Bill Chartres 1988

Track to Dalhousie from Mt. Dare 1988
&copy Bill Chartres 1988
Above Dalhousie H.S. Ruins - July 1988
&copy Bill Chartres 1988
Above Dalhousie H.S. Ruins - July 1987
(This photo was taken from the same location as the previous one
shows the difference between a dry season and one with rain!)
&copy Bill Chartres 1987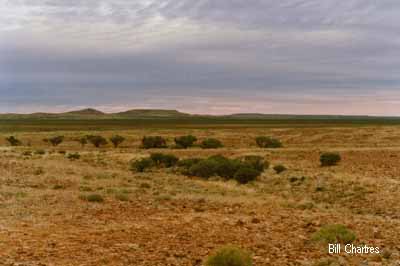 Alternate track to Purnie Bore from Dalhousie Springs
(Main track closed due to rain - 1989)
&copy Bill Chartres 1989
Dalhousie Springs - July 1987
&copy Bill Chartres 1987
Dalhousie Springs - July 1987
(Back row L-R Peg, Graham & Jason Chartres)
&copy Bill Chartres 1987

"Bull Dust" on track from Dalhousie H.S. Ruins to Dalhousie Springs
(Bull Dust is very fine dust like talcum powder) 1987
&copy Bill Chartres 1987
Track to Federal Ruins from Dalhousie Camp Grounds - July 1987
&copy Bill Chartres 1987
Dalhousie Springs - Camp Site - July 1989
&copy Bill Chartres 1989

"Dalhousie to Purnie Bore - 1988
&copy Bill Chartres 1988
Dalhousie Homestead ruins - 1988
&copy Bill Chartres 1988
Dalhousie Stockyard Ruins - 1988
&copy Bill Chartres 1988

Dalhousie Springs - 1988
&copy Bill Chartres 1988
Dalhousie Springs - Running repairs - July 1988
&copy Bill Chartres 1988
Dalhousie Springs - 1988
&copy Bill Chartres 1988